Those blue Nikes! Note the low heel to toe ratio.
Running didn't become a part of my life until my early 30s, but since it is such an important part of my life, I sometimes think back on my earliest memories of running. Most of these things were happening off in the periphery of my life, but they were there, maybe quietly embedding themselves for later on. Anyhow, in no particular order, here's what I can remember about running over the many years:
Mary Decker going down
When blue Nikes with a white swoosh mark were the one and only running shoes around.
When barefoot Zola Budd was crucified in the media for "tripping" America's sweetheart, Mary (then) Decker
When I knew one marathoner, my high school boyfriend's older brother. He was trying hard for Boston and kept just missing it. I realize now what a stud he must have been–this was the 80s and standards were brutal.
When PowerBar was the only game in town.
When Joan Benoit won the first women's Olympic marathon
Hearing talk of this new carb gel called GU.
When heart rate monitors were a new, super high-tech invention.
When men's running shorts were FAR too short (still see that occasionally)
When I owned a pair of hot pink tights (what was I thinking?)
When you would have been laughed off the track if you had shown up in a running skirt.
When running was just a means to an end in triathlon for me.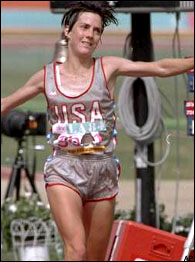 Joan Benoit was and still is the coolest
What are your earliest memories of running?
Related Posts: