No, it's not Chris K., in spite of the fact that he DID finally run in the rain. He of sunny southern California finally understands that he won't melt. You can go to his site and see the proof, provided kindly by Meg.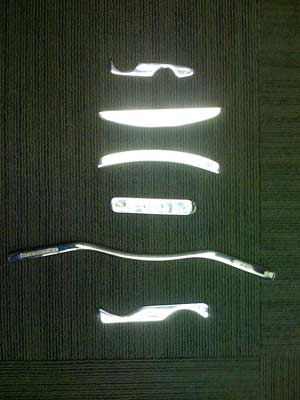 So yes, Chris's stock has gone up in my book, but it's a set of metal instruments that's moved into the BFF position. They're called Graston tools and I'm putting some hope in their ability to help my ITB.
I'd heard from a few people that Graston was what got them over the hump with ITB. I'd also heard it was extremely painful and that you can't really run while being treated. Well, I'm not running anyhow and I was born with a high pain tolerance, so I asked my chiropractor about them last night. He obliged me with a short treatment. He took one of the smaller tools and repeatedly scraped my leg at the area of the attachment near my knee. The idea is to break up the adhesions there and induce a bit of inflammation. So no icing until later today–that inflammation will actually help speed the healing. I didn't find it all that painful, but apparently the treatments progress in intensity each time you go, so next time might be worse.
I know it may not be a cure all, but right now, I'm willing to try just about anything to get back on the road. I'll keep you posted.
Related Posts: